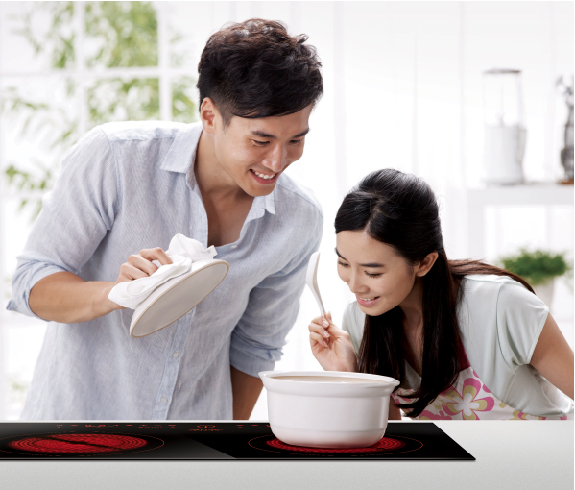 WHY SENZ MULTICOOKER IS THE CHOICE FOR DISCERNING HOMEMAKERS
Safety Features

Auto power cut off after 60 minutes

Dual locking mechanism for double safety assurance
TOP SAVINGS

Hourly energy usage rate from as low as RM0.20*

Equipped with Low, Medium and High heat settings**


Build-in invertor sensor, heating element will turn on/off automatically when reaches selective power to save more energy
STRONG COOKING HEAT

Generates heat up to 574°C** in 10 minutes to cut down on cooking time

Four cooking zone which range from 1000W-2200W and power level from 0-13**
IDEAL FOR ALL COOKWARES

Suitable for claypot, ceramic, glass, aluminum, non-stick, stainless steel and etc.

IDEAL FOR ALL COOKWARES
        Premium quality German glass that can substain up to 800°C

Germany EGO heating coil provide EGO tubular heating elements have good thermal properties
* Depending on individual household electricity consumption
** Selective model
ASPIRED TO INSPIRE SMART LIVING
Style need not take its toll on functionality or even cost-efficiency. More so with the contemporary range of SENZ MultiCooker. Tastefully designed to accentuate the kitchen with a personal touch, and ignite the passion for cooking once more with its advanced features. Powerful performance that safely fits any of your preferred cooking styles, yet surprisingly energy-efficient for your greater savings in the long run. Well, cooking is now simply a breeze.